Children's Weekends and School
Holidays Trips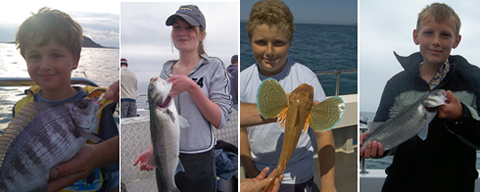 For the last few years now we have been offering an 'introduction to sea fishing' aboard 'Out the Blue'. Probably the best father and son (or mother and daughter) fishing experience in the Channel Islands.
You will be taken on a three hour trip to one or more east coast marks, shown how to bait and use the fishing gear. You will then be told about the location and what you can expect to catch, how to release any fish that is not going to be eaten and some of the ways you can cook your fish.

The Skipper Richard has many many years of fishing knowledge and whilst he can't guarantee the size of your catch he does promise a great evening out that you will not easily forget.

The boat is quite nippy so the journey time is kept to a minimum. One of the most important things to note about the boat is very stable ride, perfect for anyone new to boating.
The cost is - kid £35 and adult £45. 2 kids 15yrs n under to 1 adult ratio. The price includes use of the boats rods, reels and bait with guaranteed smiles and laughter provided at no extra charge.
Notes:
* We have a maximum of 2:1 ratio of child to adult polic .
* You will be expected to be in charge of your Children at all times and respect both the boat and the sea.
* Standard life jackets are onboard but please feel free to bring your own if you wish and we advise that they are worn at all times.
* Sensible shoes and warm clothing should be worn. It can get chilly on the water especially early or late in the season.
* Tea and coffee is provided but you will need to bring your own cold drinks and snacks. There is a toilet on board and do not forget to bring a bag for your fish.