Business or Pleasure?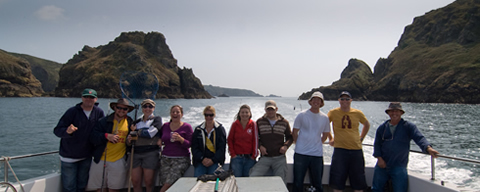 'Out the Blue' not only caters for the individual or group of friends, but also can be chartered by sports and social clubs, business groups and organizations, both for staff and client entertaining as an alternative to the norm. Chartering the boat is an ideal way to foster team building, augment client relations, reward employees or simply a way to unwind from the daily pressures of work and life. The experience is a good way of discovering individual strengths and weaknesses and reinforcing, or indeed, establishing bonds.
When chartering the entire boat, a trip on 'Out the Blue' can be tailored to your group's requirements - a spot of lunch in Sark or a trip to the south coast cliffs - just ask and we shall attempt to accommodate any specific requests.
'Out the Blue' can be hired for a full day or a three hour evening trip.
The Full Day Trip. 08:00 to 16:00 -
for which you are expected to arrive no later than 07:45.
Please note if you are less experienced anglers, or wish for less time on the water, we can arrange a later departure time.
Prior to departure, you will, together with Skipper, Richard, decide what type of fishing will take place. This will depend on the weather, tide, time of year and your expectations. Fishing can often bring out a competitive side to one's nature and often challenges for the biggest and/or best fish caught are set. On board everybody has a good chance of success and some amazing fish have been caught by the first-timer, as well the more experienced anglers.
The full day trip requires you to be kitted out in the right clothes. Whether this includes waterproofs and woolies or sun cream and a hat - do come prepared. Whilst tea and coffee is available on board any other refreshments (including food) will need to be brought with you.
If chartering the whole boat, why not enjoy a deliciously prepared seafood platter or buffet from the excellent fishmongers at Seafresh. This will be delivered in time for your departure and will set the mood of the boat perfectly. The platter and food options can be catered for your groups requirements, however will all follow a fishy theme, just let us know what you require.
Evening trip: 18:00 to 21:00 –
you are expected to arrive no later than 17:45
This is a great introduction to angling and a great way to see Guernsey from a different viewpoint. You will be fishing on one or more east coast marks depending on the conditions that evening. It's all about enjoyment and making the most of the time on the boat. No matter your skill level you will be under the guidance of the Skipper who will ensure that you have the best chance of a good catch for supper that night.
As with the full day trip, be sure to bring the correct clothing as evenings on the water can get a bit chilly, even after a scorching Summer's day.
Finally, don't forget to bring a bag (or two) for your catch!